576844 Series Landrover Wheel Hub Removed From A New Axle Please Read Desc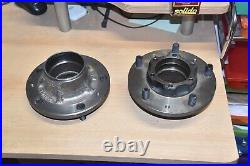 576844 SERIES LANDROVER WHEEL HUB REMOVED FROM A NEW AXLE. THESE ARE ORIGINAL LANDROVER HUBS. THEY WERE REMOVED FROM A BRAND NEW AXLE. THEY HAD BEARINGS FITTED BUT THESE HAVE ALSO BEEN REMOVED.
THE PRICE IS FOR 1 HUB. PLEASE CHECK THE PART NUMBER AS THEY CHANGED AROUND 1980 TO DIFFERENT THREAD, BEARING AND SEAL TYPES.
THESE ORIGINAL LANDROVER HUBS SELL FOR AROUND 180 POUNDS EACH SO MAKE AN OFFER AND GRAB A BARGAIN. YOU ARE MORE THAN WELCOME TO COLLECT IN PERSON.