ALR6851 Land Rover Rear Back Safari Unglazed Door 90 110 Defender 300 td5 series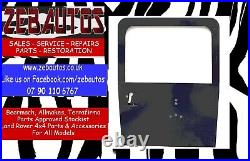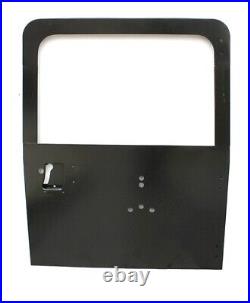 New 90/ 110, Defender, Series II & III Unglazed Rear End/Safari Door with holes for. Like us on Facebook for more info. Here for sale we have a brand new ALR6852 unglazed safari back / rear door with spare wheel carrier holes.
Suitable for Land Rover Defender from MA939976-1A622423 (300TDI & TD5 UPTO 2002). However can be made to fit earlier models of defender & Series II, Series III.
Please read the description fully as some models require minor modification. This is rear door is designed to be direct fit for Defenders from.
The door does include the holes for spare wheel carrier. In most cases just unbolt your old door, transfer your handle, hinges etc to this door and bolt it up to your Land Rover in less than an hour.
Please note depending on age of your vehicle you may need to do the below to the door. This door is direct fit on Defender models between. MA939976 - 1A622423 (300tdi & td5 to 2002). This door will fit series and earlier defender models with some slight alterations see below for more details. This door will fit series 2 & 3 but please note this door has the holes for the middle door hinge.
If you do not wish to run middle hinge this is probably not door for you or you will need to blank the holes. On certain series you might need to change door handle to later type due to lock location, will be direct fit on all defender models up to 2002, Later handles from 2002 require lock hole making bigger. Over the years Land Rover changed the rear door check strap many times so depending on age of your vehicle you may require a different check strap or modification to your current one.
Land Rover from around 2003 changed back door on the defender to a full steel constructed door. Easiest way to know if you have the later style door is the glass in door will be held in with rubber seal where as doors prior to this glass is held in place with metal clamping strips on the inside of the frame. The door for sale in this listing is same style as pre 2002 that being said the door will still physically fit defenders after 2002 just certain parts might not transfer over without any work.
Ie spare wheel carrier, central locking and you will need different glass. Any questions regarding our doors, fitting of the door or if door fits your model please feel free to drop us call or message. The door has been made to take spare wheel carrier.
We do however always advise that spare wheels should be carried on a separate wheel carrier, as it was a poor design from Land Rover to begin with as no rear doors are ideally up to the weight of the spare wheel. Even the all steel pressed steel gen LR puma doors are now starting to fail from the weight of the spare wheels. Just to clarify depending on your model & age of vehicle it may require modification as listed above to fit your car. If you are in any doubt please call 07901 106767 and we can talk you through this. If you are really stuck and can visit us (Preston, Lancs) I will even try and help fit it too!
We are an official Allmakes, Terrafirma & Britpart supplier so we can supply any other parts you may require for your Land Rover. Located near Preston & Southport. Viewing is available and preferred. The item won't be released until funds have cleared.
No overseas buyers or scammers (overseas exporters will need to find a uk agent willing to pay cash on their behalf). Low feedback ebayers to contact me first. All images & text are property of Zeb Autos and are not to be used without our prior consent.