Land Rover Series 3 SWB Polyurethane Bush Kit DC7003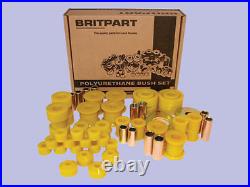 Land Rover Series 3 SWB. This is a Britpart branded kit. Maunfactured using the latest in Vulkollan Polyurethane Technology. This kit will replace all the standard bushes on the vehicle. Pictures are for reference only and specifications may alter without notice. Product specifications are given but it is up to the end user to ensure that the product is fit for that purpose. Please leave a contact number when ordering. FREE CARRIAGE APPLIES TO MAINLAND UK ONLY.
PLEASE SEE TERMS AND CONDITIONS FOR POSTCODE RESTRICTIONS.