WHITE 7 Headlights & H4 55w Hi/Lo HID Kit fits Land Rover Series 1 2 2A 3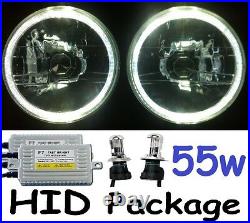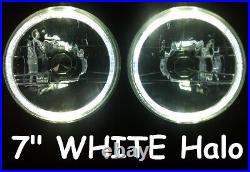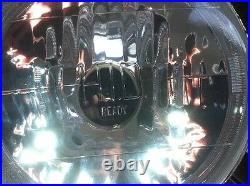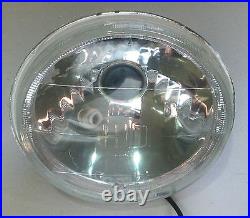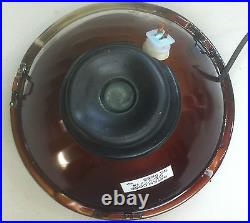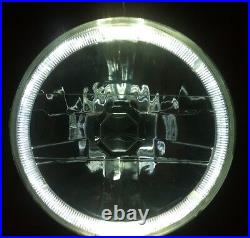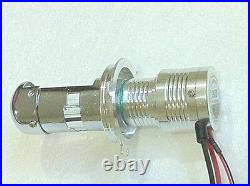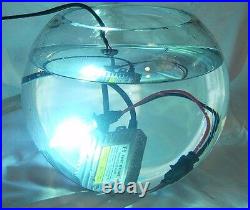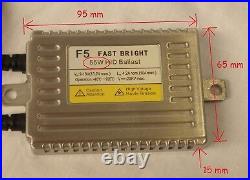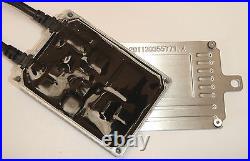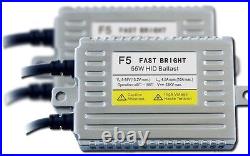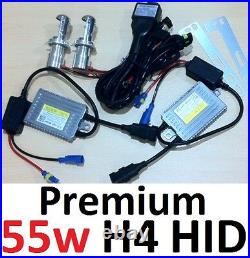 Finally after great pressure from lots of customers, a package deal with our Premium H4 Hi/Lo HID and our 7 Halo lights specially made for HID. A brand new pair of our "HID Ready" White LED Ring Halo 7 Hi / Low Semi Sealed head light inserts. Our top of the line 55w H4 Hi/Lo HID Kit.
Heavy duty, slim line, AC non static, waterproof and robust. These are multi purpose crystal beam lights. Ideal for great forward and side vision. Our most popular 7 light is our crystal.
It's terrific for forward and side vision and of course it has our HID Ready Lens. So we asked the factory to add the LED halo to that light during manufacture to create these lights. The size is 7" round and they suit all 7" applications.. The only other sizes out there are 5 3/4" and 4 1/2" so if you go and have a measure it will be pretty obvious to you which size you need. They are a direct replacement of your normal 7 round sealed or semi sealed head lights.
Remove the outer metal retainer (3 screws) and the light falls forward into your hands. Just unplug the old and plug in the new. Re-position the light and screw in the retainer and you are done.
There is no need to remove the grill or headlight surrounds. Make sure the word "TOP" is at the top so that hi and low beam is best managed. The reflector is made of glass finish sheet metal and is shaped to project light as far forward and to the side of the road as best possible.
The Prismatic reflector has shaped curves that do the spreading out of the light in a shape such that to the right it points down a bit so as not to blind oncoming traffic yet to the left it is higher. This makes it compliant for all Australian and other RH Drive vehicles. The lens is flat glass.
Also the inside no longer has the shield. HID globes and quality Halogen globes already have their own shields or painted ends and so a light shield only creates shadows and dark spots. LED Halo - The Halo is powered by 8 x LED globes inside a glass tube. It gives the neon tube look rather than a string of small lights in a row. Note many Halo lights have rings of small led's or their tubes only have 4 x LED globes.
This is something else we made sure of. HID READY - Although still perfect with normal globes these were specifically designed to take HID globes. There are no light dispersion ripples that cast light sideways.
The reflector does all the work. There is not another lens out there more suited to HID globes than these lenses. These lights have provision for park light globes and they are the wedge style so you have a heap of modern choices like colored LED park lights. These are steel and glass - there is no melting or fading and just like beer tastes better out of glass - we should also use glass for lights and not plastic. They can handle extreme temps.
HID High beam and HID Low Beam and they are waterproof. Even if water could get inside it cant effect anything. The inside of the ballast is totally filled with resin preventing any water damage.
These are crazy bright and. Twice as bright as the cheaper 35W kits. But note they are not for everyone. Your low beam is 70W HID which is really bright for oncoming cars. If this worries you then stick with our 55W kit.
There is a link below to my very popular 55W kit. But there are people who can do with 70W and want 70W. Not on city roads but more the off road vehicles, farmers and country folk who need to see the road and wildlife. 55W - watch others - most are just 35W, bulky non AC and cause static on your car's radio. 12V - Let us know if you need 24v.
I also stock 4300K, 8000K and 10000K. A less expensive kit has plastic globes that are not only unrelaiable and fail, but they melt, they separate and fall out of the light setting fire to the rubber boot upon contact with the glass of the globe and they can be assembled upside down causing light scatter. In our quest for excellence we have had these globes made to our own specifications and solved all of these issues. They have an alloy body that not only wont melt but they lock together only one way and securely. So well that some customers cant see how to separate them to fit the lights. (It's easy when they read the instructions) - but they don't come apart on their own.
The glass of the globe is secured in a non-meltable material - no matter how hot you run these they will not melt. These are undeniably the very best H4 HID globe on the market and we are proud to call them our own. In this kit, you get.
2 x 7 Crystal Lights with White Halo Rings. 2 x Alloy H4 Hi/Lo Globes (4300K).
2 x Slim line 55W 12V Ballasts. 2 x Ballast mounting kits. 1 x loom / wiring harness. Easy to follow instructions with pictures. You dont need anything else - it is totally complete and ready for insane super bright lights. The globes I sell work on both 12 and 24V. The Harness I can do in either 12V or 24V. It is a wive's tale that one colour is brighter than another. As it happens, the more yellow the colour is, the better definition of colours is detected. So a tree looks green, a rock looks brown and a kangaroo looks grey. The more blue the colour is, the more everything looks the one colour (grey) making it harder to spot skippy. I offer 4300K as my standard colour in 55W for whiteness and better colour. I will supply 4300K unless I hear from you. These new Ballasts are the key to our brilliant HID kit (pardon the pun). They are compact slim units that can be. Fitted in the engine bay. They have brushed stainless steel cases and they are AC not DC. AC ballasts produce a smooth curved sine wave power output (rather than abrupt pulses of DC) and that means longer globe life and brighter lights. There is no need for a mechanic or auto elec - you can do this yourself at home.
No special tools required and job takes about 15 minutes. When the globes switch between hi and lo the core of the globe moves in and out.
The globe stays on all the time so there is no heating up or loss of light between beams. There is a light shield that stops light hitting the bottom of the reflector in low beam. When the core shifts to high beam position, not only does the bright spot move into the "focal point" of the light but it also shines through a slot in the shield that allows light to hit the bottom of the reflector that then sends light upwards. What's the point replacing rubbish with more rubbish - that didn't solve my problems.
I have done the miles and gone through the pain to find the best components from China, Korea, Japan and Germany depending upon the kit. Remember, a cheap kit is not cheap once you throw it out.
Face it - if you did a ballast, can you see yourself posting it back to Hong Kong? But I'm only in Melbourne and I'm here to look after you.
Furthermore - we have seen where things can be improved and our factories have improved and developed these parts to make them better. The lights, the ballasts, the globes and the wiring kits have all been improved to our demanding standards. It covers blown or non functioning globes and ballasts. Together we will go through a few simple steps to work out if you have a globe or ballast or wiring problem and then I send the required part to you. Remember not to touch the glass with your fingers, like all globes.
If you finger the glass you leave a small oil deposit on the glass. That oil heats up to extreme temperature and the temperature difference between the non effected glass and the effected glass is so great it can break the glass. But as I said - this goes for any globe.
HID lights work by passing electricity through xenon gas. There is no fragile element.
To blow a globe you have to physically break it. This kit does both headlights. It is managed by just 1 of your headlight sockets and the second headlight socket in your car remains empty. No soldering or cutting wires.
The Harness plugs into 1 x headlight socket. That's how the relay is triggered for on and off and hi vs low beams.
The Harness has 1 x red cable with fuse to connect to "+" on the battery. At each ballast plug the harness needs the small black wires to be earthed on a metal ground point on the car. The Ballasts plug into the harness and the main power wires for the globes plug into the ballasts.
The ballasts convert the battery voltage to 23,000 volts as that produces an arc (or continuous spark) across the void of xenon gas which produces the light. No fragile parts or anything that can wear out so they last forever. The Harness has 2 small plugs which plug into each globe - these tell the globe to switch between hi and lo beams. The globes each have a solenoids which pull the globe stalk inwards so that the bright spot of the globe is no longer shaded from the bottom of the reflector but also moves into the reflector's focal point.
That produces a very effective hi beam light pattern. At JTX Lighting we have literally hundreds of lighting solutions from globe replacements to upgrades to higher wattage for brighter and safer driving at night or we can take you to the next level with LED and HID globe upgrades. We also sell head light replacements and upgrades to LED assemblies and the trendy Halo lights. We are 100% committed to quality, fast speedy deliveries and great personal after sales support. It's how we roll.
This item is in the category "Vehicle Parts & Accessories\Car & Truck Parts & Accessories\Lighting & Bulbs\Headlight Ballasts & Ignitors". The seller is "jtxlighting" and is located in this country: AU. This item can be shipped worldwide.
Product Type: Lights and Globes
Light, Indicator Type: Head Light Inserts
Manufacturer Part Number: JTX 7 \
Brand: The Jazz Trax